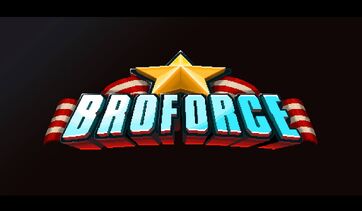 The Broforce Brototype is a free demo of Broforce, with limited content, such as levels and Bros. This demo was released on 4 September 2012 on Steam Greenlight by Free Lives until it was greenlit by the community on July 24th 2013, receiving its last update on July 30th 2013. The name is a fusion of the colloquialism "bro" and the word "prototype".
Its reuse musics from Rambros composed by Chris Haigh, displayed only the campaign mode, one theme (Jungle) and two weathers: Day and Burning.
Playable characters
Edit
These are the playable Bros in the demo.
Opponents
Edit
Regular Mook
Suicide Mook
Riot Shield Mook
Scout Mook
Big Mook
Attack Dog
Pure Evil
Spawn Truck
Tank
Terrorkopter
Mammoth Tank
Swiss Army Knife boss
Accessiblity
Edit
The demo is open and accessible to everyone, available online or as a download.
Ad blocker interference detected!
Wikia is a free-to-use site that makes money from advertising. We have a modified experience for viewers using ad blockers

Wikia is not accessible if you've made further modifications. Remove the custom ad blocker rule(s) and the page will load as expected.